Questions and Answers
Certificate of Competence
Information on Plant Protection Products (pesticides) and Biocides
We only sell authorised plant protection products (pesticides) as well as listed and registered biocides. Should there be any changes at the time of the order, we will inform you individually.
Please note that we have marked Plant Protection Products (pesticides) with P and Biocides with B.
P = Plant Protection Products (pesticides) use with care. Always read the label and product information before use.
B = Biocides use safely. Always read the label and product information before use.
Certificate of Competence for the use of Pesticides in Credit Card Format: Compulsory since 26.11.2015.
Customers wanting to use plant protection products (pesticides) must have the expertise to do so in order to avoid danger to the health of humans, animals or the environment. In line with the Plant Protection Act of 14.02.2012 and the Plant Protection Ordinance passed on 27.06.2013, this procedure applies to certifying expertise in the application of pesticides for crop protection.
Anyone who:
uses pesticides,
sells pesticides,
is involved in training courses on the use of pesticides or has a supervisory or more simple support role or
advises on the application of pesticides
must, with effect 26 November 2015 possess the Federal Certificate of Competence for the use of Pesticides in Credit Card Format (for Germany) or equivalent EU Member State National Certificate.
Crop Protection: Regular continuation training is mandatory.
In addition, all those trained in plant protection are obliged to take part in a recognised continuation training course in line with Germany's § 7 Plant Protection Ordinance Regulation (or equivalent EU Member State regulation) within a period of three years. Participation in such a training course extends the period of certification by a further 3 years. Compliance with the three-year training period is a responsibility of the individual user and is subject to checks. Proof of certification in the form of a valid credit-card-type training certificate must be presented. For further information, please visit: www.pflanzenschutz-skn.de or https://ec.europa.eu/food/sites/food/files/plant/docs/pesticides_sup_overview-sud-training-certification-systems-2013.pdf
Important:
We request your understanding that we are only allowed to supply plant protection products (pesticides) upon presentation of the appropriate and valid certificate. You can order biocides, pheromones, anti-browsing and bark protection agents as well as wound dressings and grafting agents without presenting proof of expertise. See German example below: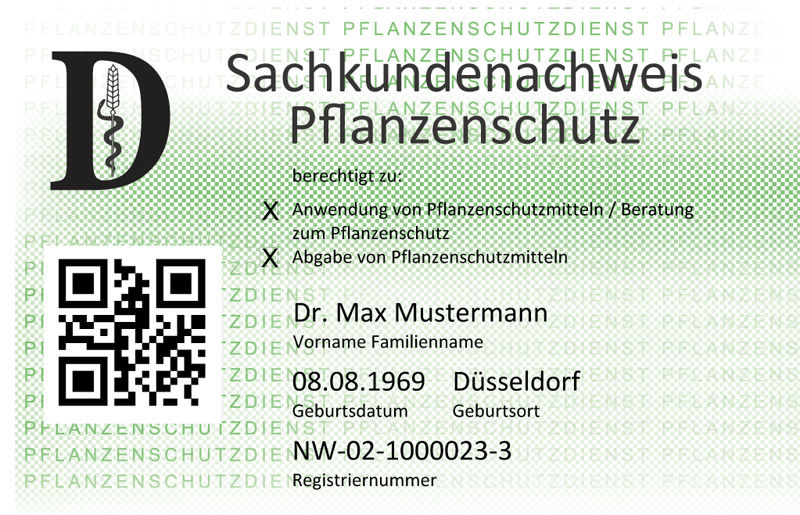 Some of the chemicals we have on offer are classified as Dangerous Goods (also known as Hazardous Goods). To comply with the European Convention on the International Carriage of Dangerous Goods by Road, packages containing dangerous goods must be specially marked. You should be aware that not every freight forwarder may carry dangerous goods.
Please also note that packages (containing dangerous goods) for onward forwarding much be declared as such. In the case of a possible return (of a package containing dangerous goods), please contact us beforehand, so that the return runs smoothly.
Price Ex Works – Bulky Goods
Prices for bulky goods are quoted ex works. You can collect (or arrange collection of) these products yourself free of charge or we can arrange transport for you. In each case, please get in contact, so we can discuss your requirements.
Age Restricted Sales (over 18-years-old)
Age restricted articles are labelled as such. Within the scope of current statutory provisions, sales of these items may be made only to people over 18 years of age and from Germany. For proof of age we need a copy of the ID card by post, fax or e-mail. Delivery is made to the person named on ID card copy. A different address or recipient cannot be accepted, since we can only deliver to the person whose proof of age we have received. For Age Restricted items we use the DHL "personal" service, so the forwarder cannot deliver the consignment to a minor at the shipping address. Once a customer has provided proof of age, no further check is necessary for further orders of age restricted products.
Sale and Delivery of Ammunition
Ammunition shall be delivered only upon presentation of a valid purchase entitlement. Please send us a copy of your valid (German) hunting licence (Jagdschein).
Fax: +49 (0)5194 900-270
Email address: info@grube.de
Sale may only be made after presentation of valid purchase entitlement and proof of age.
Ammunition cannot be exported.
You can also buy ammunition and other goods by visiting our retail outlet in Bispingen.
We supply ammunition exclusively with the Overnite Courier Service.
Shipping costs for ammunition within Germany are €19.00. Please enquire about special tariffs for the German North Sea and Baltic islands. In case of any returns, please contact us before returning the product (only full, sealed original packaging). We will send you a return note.
General Business Terms and Conditions
Our General Business Terms and Conditions apply in all cases. They are to be found on our website and in our main catalogue.
Fitness for Purpose
On the basis of various laboratory tests for different calibres and the evaluation of hunting results, we are certain that the ammunition on offer is fit for purpose.
Can you shoot lead-free and conventional (lead) ammunition from the same barrel?
According to our findings, shooting lead-free and conventional (lead) ammunition from the same barrel of a hunting rifle is rather problematic. It can work but each barrel reacts differently. Here the old saying applies: practice makes perfect!
Gutting hygiene, toxicology, recoil characteristics and weapons systems compatibility.
We specifically refrain from any kind of evaluation regarding gutting hygiene, toxicology, recoil characteristics and weapons systems compatibility and comparing conventional, lead-containing rifle ammunition. That should be assessed by qualified experts. For us practitioners, on the other hand, lead-free ammunition is effective and continues to impress after many years of experience.