Disposal and environment
Information in Compliance with the Law on Batteries
As our shipments may contain batteries and rechargeable batteries, we are obliged under Germany's law on batteries (Batteriegesetz (BattG)) to inform you of the following: batteries and rechargeable batteries may not be disposed of as household waste. You are legally obliged to return used batteries and rechargeable batteries. Used batteries may contain harmful substances which, if not stored or disposed of properly, may harm your health and the environment. Batteries also contain important raw materials such as iron, zinc, manganese and nickel which can be recycled. After use, you can either return batteries to us or to a convenient local collection point, free of charge (for example at municipal collection points or at your local supermarket or hardware store). Return of used batteries to points of sale is limited to normal quantities of original batteries provided to end users, as well as new batteries the distributor carries or has carried for his product range. The sign with a crossed-out dustbin means that you may not dispose of batteries and rechargeable batteries in household waste. Together with this symbol you will also find others, meaning: Pb battery contains lead. Cd battery contains cadmium. Hg battery contains mercury.
Disposal of old Electrical Appliances in an Environmentally Friendly Manner
Germany's electrical and electronic old appliance law (Elektro- und Elektronikaltgerätegesetz (ElektroG)) is the German implementation of the EU's Waste of Electrical and Electronic Equipment (WEEE) Directive. This regulates how electrical and electronic equipment is placed on the market, its return and its environmentally compatible disposal.
You have the option of disposing of your old equipment through GRUBE on the basis of a return receipt.
A distinction is made between a 1:1 return and a 0:1 return.
1:1 return: when buying a new device of the same type, you can return the old device free of charge. You will receive a link for this as part of your order confirmation after successfully placing your order.
0:1 return: devices with a maximum edge length of 25 cm can also be returned without buying a new product. Link: https://www.zmart24.de/retoure/varxd
Returns must take place at the nearest returns point and packed as packages. The maximum package size is 120 x 60 x 60 cm and may not exceed a weight of 31.5 kg per package. The costs for packaging are to be borne by the sender. For larger devices, we offer individual collection by our service provider on request.
You can find more information about shipping at the link shown above. On the website, you can also search for your nearest DHL branch. If you do not have access to a printer, you can have the label printed out at your DHL branch, stating the shipment number.
How can you tell that a device falls under the EU's WEEE Directive or Germany's ElektroG?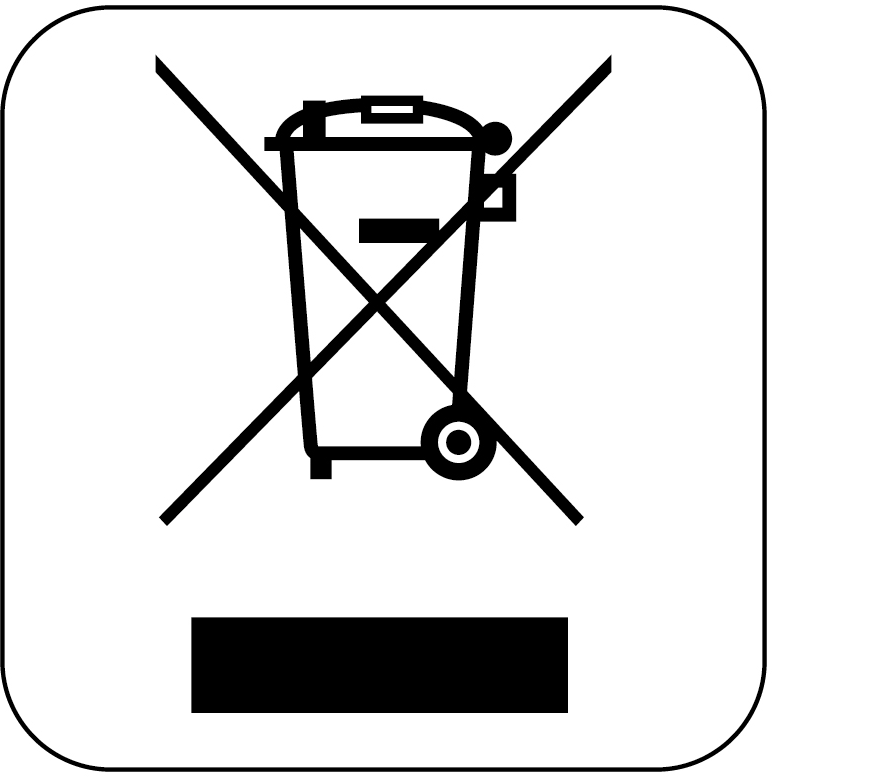 All electrical and electronic equipment on the European market must carry this symbol.
Equipment and devices with this label must not be disposed of as household waste but must be returned to the manufacturer or importer responsible for recycling via the local authorities' municipal collection points for public waste disposal.
Please note the following important information:
Data Protection: In all cases, you are responsible for ensuring that there is no personal data on any old equipment you have returned. Make sure that you have deleted your personal data from any old device before returning it.
Lamps and Light Fittings: Before returning lamps and light fittings, ensure that they have been particularly carefully packed. Otherwise they can be easily broken in transit and release harmful substances. They should be packed and padded on all sides. Use a sufficiently large and strong cardboard box.
Batteries / Rechargeable Batteries in Devices: Wherever possible, remove all batteries / rechargeable batteries from the device(s) and take them to a battery disposal point.
Less waste: The Packaging Act
The Packaging Act (in German: Verpackungsgesetz) aims to prevent or reduce the impact of packaging waste on the environment. Packaging waste should be avoided as a matter of priority and recycled.  In addition, the Packaging Act regulates the obligations to be observed when placing packaging on the market.
Grube KG will fulfil or comply with the obligations arising from the Packaging Act and in this connection has contractually obliged all suppliers to also comply with the corresponding requirements. Within the framework of this legislation, Grube has registered with the central body (LUCID).
Registration number Packaging Register LUCID: DE4255325464980
Registration number Old electrical equipment register: WEEE31633741